Converge Retail Wins Best In Show Product Design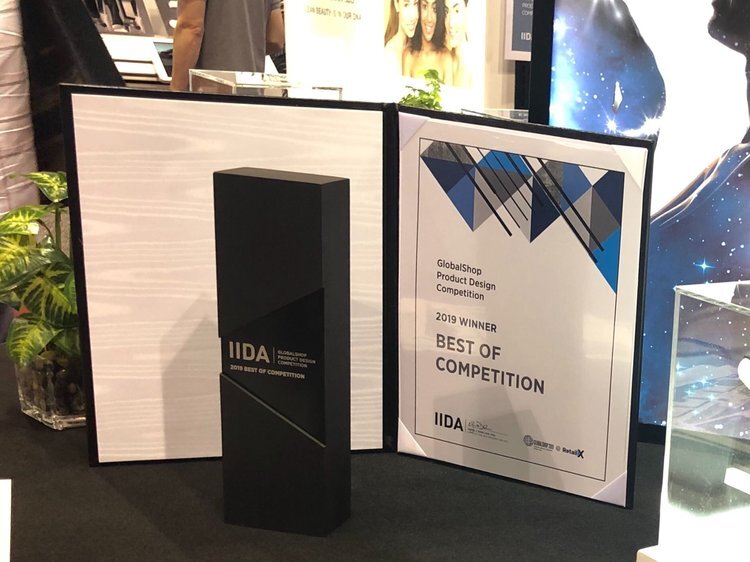 The Kinetic Retail Display Platform by Converge Retail was awarded the Best in Show Product Design Award by a jury of IIDA retail design professionals. Judges for this year's competition were Olivia Lindenmayer, senior associate, Antunovich Associates; Mark Johnson, principal, Johnson Design Group; and Kristina Michelsen, senior designer, CallisonRTKL.
The Converge platform brings the richness of online shopping to the in-store shopping experience. Laterally sliding interactive tablets enable customers to compare product specs, watch video tutorials and read customer reviews. This ability to deeply research and compare products available both in-store and online keeps customers in the retailer's ecosystem, whether they purchase off the shelf or make in-aisle purchases from the retailer's online inventory.
Converge helps savvy retailers disrupt the traditional retail space by removing barriers most commonly associated with interactive in-store retail displays. With its platform, 4-ft. sections can be joined for any size display and fit virtually anywhere, including narrow endcaps and other spaces not large enough to accommodate traditional retail displays. The display systems can mount easily atop existing retail fixtures, or can be wall-mounted for even greater placement flexibility, and the platform is ready to deploy out-of-box, with no development resources required to get up and running. The analytics engine gives retailers deep insight into the customer journey via customizable reports.
The platform is not specific to a particular retail genre. Michelsen pointed that it is "seemingly inclusive to multiple markets from automotive to technology. Definitely a solution to shrinking retail footprints."
Lindenmayer praised its blending of physical and digital retail. "[It's] applicable across multiple platforms, and connects online shopping experience to retail stores."