Fred Meyer Updates Consumer Electronics Merchandising with Converge Retail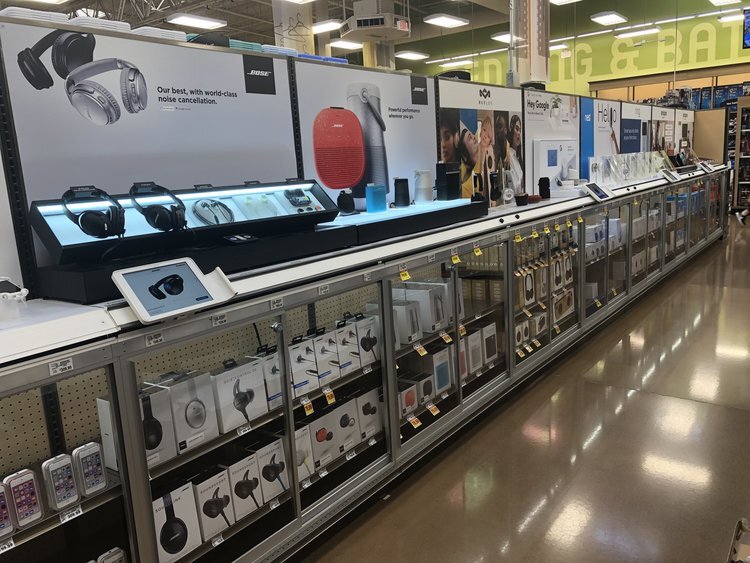 Kinetic Retail Display Platform Deepens Customer Engagement and Increases CE Sales
HAYWARD, CA – (April 30, 2019) – Converge Retail, the company whose platform brings the richness of online shopping to the in-store shopping experience, today announced successful implementation of its kinetic retail display platform at Fred Meyer's Happy Valley, Oregon test store. Fred Meyer deployed the Converge platform across its entire consumer electronics (CE) department, encompassing 40 feet of linear retail displays and two end-caps.
Fred Meyer is on a mission to deliver innovative customer experiences throughout its network of retail stores across the western United States. The CE category is particularly important to the company, so it engaged Converge Retail to redesign how Fred Meyer presents CE products to its customers with a solution that uses interactive AV technology to enrich the in-store shopping experience.
As Fred Meyer serves multiple product categories within its stores, the company does not employ dedicated CE sales associates to field tech-specific questions. Realizing that CE products have a much different sell-cycle than other categories, the company recognized the need to create a content-rich shopping experience specifically for its CE products.
Fred Meyer and Converge Retail collaborated to blend the best aspects of physical and online shopping to deliver an informative in-store shopping experience, with rich data analytics to measure success and bolster lead-generation efforts.
Enriching the In-Store Shopping Experience
The Converge platform provides the consumer with a device that shops with them, understands their intent and delivers rich content about the product they are interested in without needing to enter a search term. It is similar to AR technology without the awkwardness. The Converge system consists of rail-mounted tablet displays that slide laterally, automatically displaying in-depth product information as customers position the tablet in front of different products on display. Customers then interact with rich information and are able to view product specs and watch explainer videos. The Converge system combines a physical display experience with the product and a curated digital experience, all in the aisle at the point of sale. If the consumer wishes to purchase in-aisle or even take the information home for purchasing later, they simply enter their phone number which transfers their in-store browsing experience to their personal device. By presenting product information in this rich, robust way, Fred Meyer was able to achieve its goal of enabling its customers to shop electronics in a self-service environment.
Delivering Rich Analytics
The customer-facing experience delivered by the Converge system is complemented by rich analytics captured behind the scenes. Every aspect of the customer journey is privately logged, which in aggregate informs the retailer about how frequently and how deeply customers engage with the various products on display. Retailers and brands now have access to key insights such as which products hold more interest than others and which videos are watched the longest, enabling the retailer to refresh content as needed. This sort of A/B testing in the field makes the digital messaging most powerful, and the product assortment most relevant.
"The Converge platform is a win-win for Fred Meyer and its customers," said Jason Seed, COO of Converge Retail. "Shoppers now enjoy a sophisticated yet elegantly simple interface to learn about products on display, while behind-the-scenes Fred Meyer gets valuable, quantifiable insight to better understand customers' in-store behavior."
Valuable Lead-generation  
The Converge system also captures actionable leads each time a customer sends product information to their mobile phone, including detailed information about the customer's engagement path with the Converge display. These leads represent highly motivated customers who traveled to the store, took the time to engage with the interactive retail display and sent the information to their phones. Until now, this sort of lead generation was not possible in traditional retail settings.
Minimally Invasive Installation
As with many retail projects, Fred Meyer required that the existing retail display structures be used – therefore the Converge system had to seamlessly integrate with the existing structure. To address this need, Converge Retail designed a display solution that works in conjunction with Fred Meyer's existing displays, sitting atop the legacy structures and presenting the sliding tablets at the ideal height for customers to comfortably engage with the displays.
Addressing Security Concerns
As with any retailer, security was a primary concern for Fred Meyer, given the high value and small size of the tech products on display. This begged the question of how to secure the products, while simultaneously making it possible for customers to interact with and learn about the products in enough depth to make a purchasing decision. The custom enclosure and rail system secure the sliding tablets, while securely mounted product samples are within easy reach for customers to get a feel for the products' scale, texture and general aesthetic feel.
Measuring Results
Feedback from executives at Fred Meyer (and from parent company Kroger) have been overwhelmingly positive. Sales of the displayed products have more than doubled, compared to stores with legacy displays in place. Store personnel have been very supportive, noting that the new displays are helpful not only to customers, but also to employees as they engage with the Converge system to further educate themselves about the products on display.
For more information about the Converge Retail kinetic retail display platform, visit www.convergeretail.com.
About Converge Retail
Converge Retail is reinventing the in-store shopping experience with its newest technology platform, Converge. Converge is a digital retail display that elevates the tactile gratification of in-store shopping by adding a content-rich online experience. Customers have access to online in-aisle content, specially curated for an in-store experience, keeping them in the retailer's ecosystem from discovery to purchase, and provides new and powerful insights on customer in-store buying behavior for retailers and brands. For more information visit convergeretail.com.