OnQ Can Now Build and Ship Retail Security Brackets for Any Apple Phone, Tablet or Watch, on Day of Launch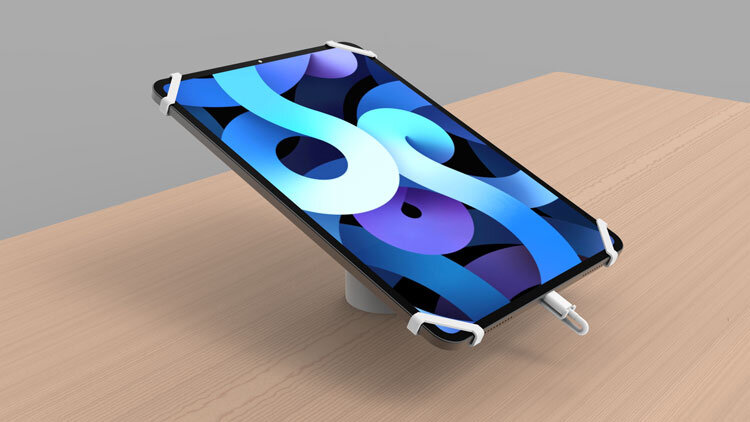 On-demand Retail Security Bracket Production Solves Retail Industry's Decades-old Problem of Bracket Inventory to Support New Product Launches 
HAYWARD, CA – (September 16, 2020) – OnQ, a leading manufacturer of custom retail displays, today unveiled OnQ Dfi™, the company's new manufacturing platform that enables on-demand production of custom retail security brackets. The ability to produce brackets of any size with near-zero lead time is a breakthrough for the retail industry in that it enables retailers to display and sell new consumer electronics products as soon as they're launched. And because the new brackets are made in the USA, retailers have their choice of shipping options, including overnight delivery.
 OnQ Dfi's near-zero lead-time was put to the test earlier this week when Apple unveiled the new iPad Air. Within minutes of the new tablet's specs being made public on September 15th, OnQ was manufacturing brackets sized perfectly to the newly announced tablet.
OnQ's patent-pending Dfi security brackets are manufactured on demand using a sophisticated in-line robotics production line. Bracket components are laser-cut from stainless steel and then shaped to perfectly fit the outside edges of the product to be displayed. The bracket contour matches the exact radius and shape of the phone or tablet, which results in an incredibly elegant and secure bracket. OnQ's new brackets surpass the security standards of the toughest retail environments including Walmart, Costco, Sam's Club, BJ's Wholesale Club and many others, while elegant enough to conform to Apple's exacting design standards.
"For decades, retailers have battled with security brackets as consumer electronics brands release products. It's difficult for a retailer to know if their existing brackets will be compatible with new CE products, and whether brackets already in-store are still in suitable shape to display those new products. So-called 'universal' brackets often don't work as companies update the size and design of their products, as well as power port and button locations," said OnQ CEO Paul Chapuis. "This puts retailers at a huge disadvantage, as they commonly aren't able to merchandise these new products until weeks after launch, when much of the initial buzz around the new products has worn off. OnQ Dfi enables retailers to have instant access to affordable, low-cost security devices that provide a perfect fit for the latest products. It's a revolution for the industry."
And why stop there? OnQ has also greatly simplified the ordering process with its new Dfi online design portal. Retailers simply select the device and table type of their retail display (slot, hole, perforated metal). Ordering on mobile includes an augmented reality (AR) visualization tool that enables the retailer to virtually "place" the bracket on their existing display surface to visualize how the bracket will appear in their store environment. The AR visualization tool makes it possible to view brackets from any angle, including the underside of the table to ensure it will mount properly to the retailer's existing display surface.
For a decade and a half, OnQ has designed retail display fixtures for the world's largest brands and retailers. The company's merchandising solutions are sleek and minimalist in design, while engineered to be strong enough to abide by the industry's most rigorous loss-prevention parameters. The ability to weave together elegant design and uncompromising security sets OnQ apart from its competitors, and is a key reason the company has become so deeply entrenched with the most prominent retailers and brands across the industry.
Retailers can visit https://dfi.onqsolutions.com to design and shop OnQ's current inventory of Dfi brackets, which are custom-sized to the new iPad Air, as well as the new 8th-generation iPad and Apple Watch Series 6. OnQ has stock on hand and ready to ship for next-day delivery.