OnQ Brings Interactivity to Madison Reed Color Bar Retail Experience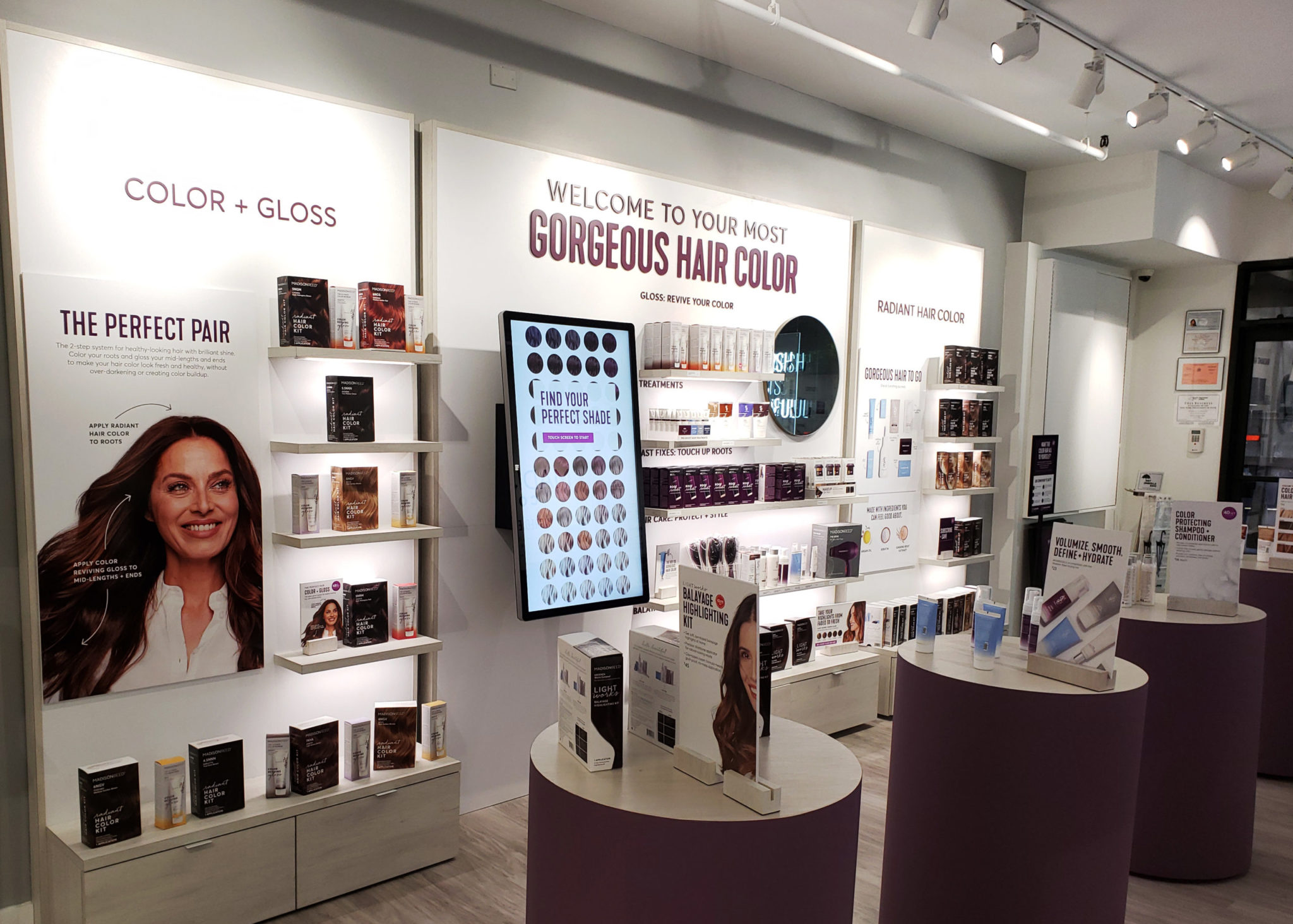 HAYWARD, CA – April 27, 2021 –  OnQ, a leading manufacturer of custom retail displays, is playing a key role in Madison Reed's aggressive retail expansion. The company tapped OnQ to develop a new interactive digital swatch panel experience to help customers explore Madison Reed's hair color products to find their perfect shade. Madison Reed debuted the new experience recently at its Color Bar in Manhattan, with more recent roll-outs at key locations in Miami, Chicago and Boston.
Deployment of the new digital swatch panel experience led to significantly increased engagement in all four locations. Thousands of unique interactions were captured in just the first several weeks of deployment, with each customer engagement averaging more than three minutes per visit. The experience – which features a 46-inch touchscreen by Elo integrated with OnQ's Converge digital engagement platform – has quickly become a valued supplement to Madison Reed's on-site color specialists, able to provide a self-assisted product education journey for customers to select their perfect shade.
"Helping someone discover their perfect shade is the most important interaction we have with our customers. Enhancing the process with the digital swatch panel introduces a certain air of playfulness that makes the whole experience much more approachable and fun," said Andrew Lande-Shannon, Madison Reed's Senior Director of Store Experience. "Offering a consultation process that's driven by a digital tool not only shows that Madison Reed is a digitally minded company, but it also supports our omnichannel strategy to deliver a consistently rewarding experience both online and in store."
With more than four dozen shades to choose from, Madison Reed wanted to create an intuitive experience for customers to easily narrow their choices, filtering by the customer's desired hair color, level of gray coverage and color intensity. By simply tapping their way through this series of questions, customers arrive at their perfect color, and then have the option to "text me this shade." By simply entering their mobile number or scanning a QR code, full details about their chosen shade is sent to their phone so they can take the experience home with them, get advice from others and then complete their purchase. Of the 1,500+ customers who visited the display during the testing period, nearly 12% of them sent the experience to their phone to continue at a later time.
Customers also have the option of taking the Madison Reed color quiz by entering their mobile number or scanning a QR code. This series of 12 questions about the customer's hair type and desired results is one of the most popular tools on the Madison Reed website, and the company wanted to bring the experience in-store. Sending the quiz to the customer's phone brings yet another interactive element into the store, with the added convenience and privacy of delivering the experience on the customer's phone.
Lastly, the digital swatch panel experience also includes a library of informative videos that can either be viewed on the display, or sent directly to the customer's phone for later viewing. Video content includes tutorials about home hair coloring, as well company history, to create a deeper connection between customers and the Madison Reed brand.
And while the new digital swatch panel experience certainly delivers the customer journey improvements OnQ was tasked with creating, Madison Reed now has access to data that paints a detailed picture of the customer journey. Every point of interaction with the new digital swatch panels is captured by OnQ's Converge digital engagement platform, giving insight into how and when customers engage with the screen. Madison Reed personnel have access to a detailed dashboard that gives aggregate and average data for the number of product visits, interactions, session duration and video plays. Additionally, OnQ logs every time a customer sends content to their phone, painting a clear picture of which content is most interesting and useful to customers.
Madison Reed chose to pilot the digital swatch panel experience in two of its full-service Color Bars, and two of its retail-only locations. Deploying in this mixed environment enabled the company to gain valuable insight about customer engagement habits at each location type. For example, customers in Madison Reed's retail-only locations researched an average of 2.86 products, while Color Bar customers researched an average of 1.79 products. Similarly, customers at the retail-only locations were more likely to view instructional videos than customers at the Color Bar locations. This data suggests that Madison Reed's retail-only locations attract a broader customer base, many of whom are not yet familiar with the company's products. This customer engagement data will prove invaluable as Madison Reed continues to refine the way it presents its products to customers within its different store formats.
Visit https://www.onqsolutions.com/engage/ to learn more about OnQ's full range of interactive display solutions for the retail industry.
About OnQ
OnQ designs, engineers and manufactures custom retail displays. The company is headquartered in Hayward, CA with production facilities in Akron, OH. Founded in 2004 and incorporated in 2007, OnQ's modular, flexible retail display platform enables retailers and brands to easily and cost-effectively refresh product assortment with minimal disruption. The company's displays are used to showcase a variety of product categories, including consumer electronics, home automation, pet care, health & beauty and household products. For more information, visit www.onqsolutions.com.
About Madison Reed
Madison Reed is a beauty company revolutionizing the way women color their hair. The fast-growing startup has created a luxurious hair-color formula free of the eight harsh ingredients typically used by other brands. For those who prefer to color their hair at home, Madison Reed uses proprietary color-matching technology and a team of professional, on-call colorists to help women choose the perfect shade of hair color, which is delivered to their door. For those who prefer to have Madison Reed color applied by a professional colorist, Madison Reed Color Bars are open in New York City, San Francisco Bay Area, Texas, the Atlanta area, King of Prussia, PA, and the Washington, D.C. metro area with more coming soon. Products can be found online at www.madison-reed.com and www.ulta.com, or in store at Ulta Beauty and Madison Reed Color Bars.