Converge Retail to Debut Jewelry Merchandising Breakthroughs at NRF 2020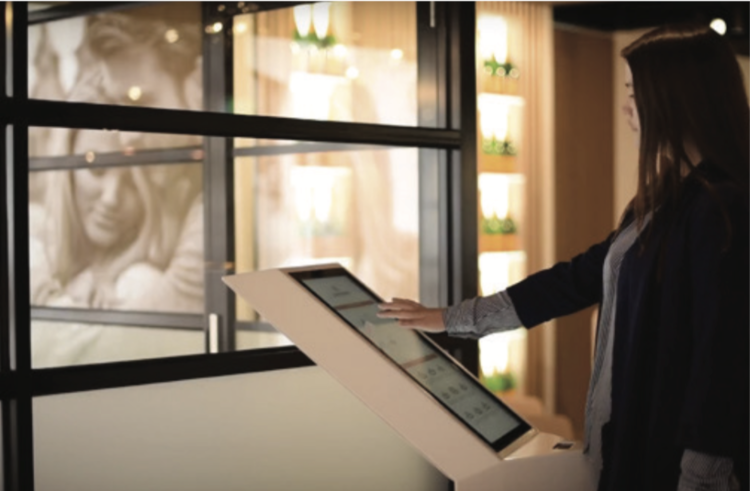 Mixed Reality and Wireless Technology Breathe New Life into Jewelry Retail, Show Promise for Adjacent Retail Segments
HAYWARD, CA – (January 8, 2020) – Converge Retail, the company that brings the richness of online shopping to the in-store shopping experience, will take the wraps off two new solutions for jewelry retailers at NRF 2020 (January 12-14, Javits Convention Center in New York City, booth #3373). Until now, the Converge kinetic retail display platform has largely been a rail-based retail display whereby laterally sliding tablets present information about products in close proximity to the tablets. The two new solutions making their debut at NRF – Converge Virtual Try On and Converge Smart Tray – are tech-forward merchandising solutions targeted squarely at the jewelry retail sector.
"The Converge platform is most useful in retail settings where customers require in-depth product information to make educated purchasing decisions. This holds especially true when it comes to people shopping for jewelry," said Jason Seed, COO of Converge Retail. "We saw an opportunity to introduce a tech-forward approach to jewelry retailers with specialized solutions that enable them to deliver a better shopping experience, and sell more efficiently as a result."
Converge Virtual Try On
Converge Virtual Try On – powered by Watch This Space – is a sleek, free-standing kiosk that uses mixed reality to enable customers to virtually try on jewelry items such as bracelets, rings and wrist watches. As customers approach the kiosk, a message on the integrated touch-interactive display prompts them to complete a quick 3D scan of their hand by slowly rotating their hand above the kiosk's embedded 3D scanner. Once the scan is complete, a life-size replication of the customer's hand appears on the screen, and the customer can then "try on" various pieces of jewelry by simply selecting from a list of available products on the kiosk's touchscreen. And while the ability to digitally layer a piece of apparel onto a customer image is not new, what distinguishes Converge Virtual Try On is its ability to render full-motion video in response to the customer's own movements. By hovering and moving one's hand above the 3D scanner, the digital representation perfectly replicates those movements on-screen, making it possible for the customer to see how a particular piece will look on their hand, from virtually any angle.
Converge Smart Tray
Converge Smart Tray is a portable jewelry display that uses RFID technology to present detailed information about products as they are placed on the tray. RFID tags are discreetly attached to each piece of jewelry, similar to conventional price tags used by most jewelers. Once a piece is placed on the Smart Tray, detailed product information is displayed on a nearby screen. Some retailers may choose to display the product information on an iPad, while others may opt to display information on a larger fixed display behind the counter. Converge Smart Tray is battery-powered and fully wireless, making for easy deployment in virtually any retail setting.
In addition to streamlining the shopping experience for consumers, Converge Smart Tray enables retailers to keep tighter control of their inventory. For example, the Smart Tray and its companion RFID-enabled inventory-management solution helped one of the world's largest jewelry companies – Hong Kong-based Chow Tai Fook – to reduce inventory shrinkage to near-zero. Closing the inventory-loss gap at retail has historically been problematic for the jewelry sector, and Converge Smart Tray empowers retailers to curb those losses and improve profitability.
Schedule a Demo at NRF 2020
Converge Retail's booth at NRF (#3373) will feature several demo stations for attendees to experience for themselves how the Converge platform is changing the face of retail. Journalists attending NRF are encouraged to contact john@faultlinecomms.com to secure a private demo at the show.
About Converge Retail
Converge Retail is reinventing the in-store shopping experience with its newest technology platform, Converge. Converge is a digital retail display that elevates the tactile gratification of in-store shopping by adding a content-rich online experience. Customers have access to online in-aisle content, specially curated for an in-store experience, keeping them in the retailer's ecosystem from discovery to purchase, and provides new and powerful insights on customer in-store buying behavior for retailers and brands. For more information visit convergeretail.com.