OnQ Helps Retailers Cope with New Shopping Reality Brought on by COVID-19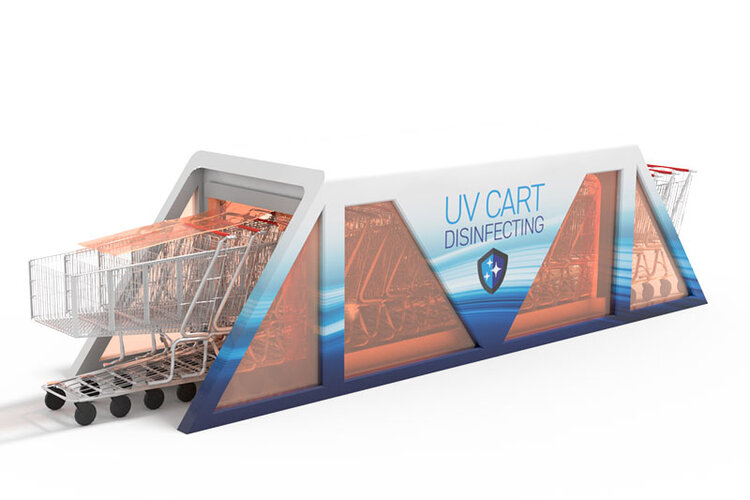 New Antimicrobial Retail Display Solutions Promote a Cleaner Shopping Experience as Customers Resume In-store Shopping 
HAYWARD, CA – (AUG 4, 2020) – OnQ, a trusted retail partner to many of the world's largest and best-known brands and retailers, today unveiled its new portfolio of antimicrobial retail display solutions. The solutions unveiled today are the result of close collaboration with thought-leaders in the retail space and experts in antimicrobial science.
"COVID-19 has been a wake-up call for the retail industry, causing retailers to reimagine in-store experiences to prioritize shopper health and safety," said Paul Chapuis, CEO of OnQ. "The biggest challenge we see for our brand and retail partners is making in-store shopping safer without sacrificing the rewarding, interactive experiences that attract customers in the first place. Our new antimicrobial solutions strike just the right balance of keeping shoppers safe without intruding on or disrupting the aspects of in-store shopping that people expect from a thoughtfully designed retail establishment.
Resuming normal operations presents each retailer with its own unique set of circumstances. To that end, OnQ's new offering is diverse and offers a number of solutions to suit various retail environments, each of which can be tailored to virtually any retail setting.
Antimicrobial LED Lighting for Retail Displays
OnQ has teamed up with Vital Vio, Inc. to embed the company's patented antimicrobial LED lighting technology into high-touch retail surfaces, constantly reducing the growth of bacterial pathogens on these surfaces. Unlike ultraviolet (UV) light, which is dangerous when people are exposed to this light, Vital Vio's antimicrobial LED light is specifically designed for continuous and unrestricted use around people. This makes it ideally suited for retail environments. OnQ's LED solution, powered by Vital Vio, is designed to attach directly to existing retail displays, to be configured as an overhead attachment to an entire display, or to be applied as smaller individual attachments to protect specific products within a larger display.
OnQ's new antimicrobial solutions, powered by Vital Vio, are fully customizable and can be adapted to virtually any retail setting. Retrofitting existing displays is straightforward and can typically be completed in hours, greatly minimizing retailer downtime. Any new OnQ display can be configured to include antimicrobial elements to suit the specific retailer needs.
UV Shopping Cart Sanitizer
OnQ has pioneered an innovative shopping cart sanitizing system that uses UV light to clean carts prior to customer use. Sanitizing shopping carts via conventional, aerosolized cleaning liquids is labor-intensive and can result in skin irritation on customers who come into contact with the cleaning agents. OnQ's solution replaces this method with a much cleaner, safer alternative. By passing carts through a tunnel-like enclosure lined with powerful UV lights, retailers can achieve a level of cleanliness similar to conventional disinfectants, but without the hassle and mess. What's more, the UV enclosure can be attached to a rail-based system that slides laterally to suit large-scale cart corrals.
Visit https://www.onqsolutions.com or contact info@onqsolutions.com for more information about OnQ's complete portfolio of antimicrobial solutions.
About OnQ
OnQ designs, engineers and manufactures custom retail displays. The company is headquartered in Hayward, CA with production facilities in Akron, OH. Founded in 2004 and incorporated in 2007, OnQ's modular, flexible retail display platform enables retailers and brands to easily and cost-effectively refresh product assortment with minimal disruption. The company's displays are used to showcase a variety of product categories, including consumer electronics, home automation, pet care, health & beauty and household products. For more information, visit www.onqsolutions.com.
About Vital Vio, Inc.
Vital Vio, Inc.® is a health tech company and the creator and patent holder of single-diode antimicrobial LED light technology for homes, public places and industry. The company's technology applies the bacteria-killing power of visible (non-UV) light to protect people, pets and plants continuously and without any restrictions. As an overhead shower light that stops mold from growing or embedded in elevator buttons to kill microbes, this new approach to a safer, healthier and cleaner world for us all is about creating environments that are inhospitable to the growth of bacteria, fungi, yeast, mold and mildew. For more information, visit www.vitalvio.com