Case study | Approachable Merchandising FOR Maui CBD Prime
Maui CBD Prime is a CBD retail establishment designed to showcase medicines produced under the collective stewardship of three generations of herbalists, permaculturists and organic hemp farmers with more than 45 years of continuous hands-on experience growing and breeding organic, high-grade medicinal herbs, oils and seeds.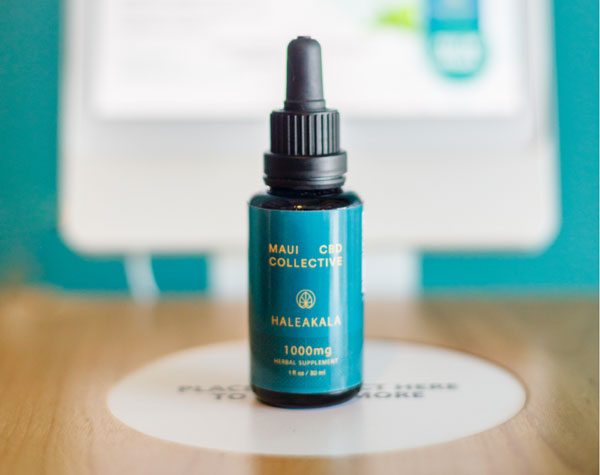 THE CHALLENGE
Demystify the World of CBD Products
The market for CBD products is hot and growing quickly, however there's a steep learning curve for those new to the world of CBD. With a relatively small retail footprint, Maui CBD wanted to make it easy for shoppers to browse and self-educate themselves about the various CBD products, without cluttering the store with excessive signage and other informational material.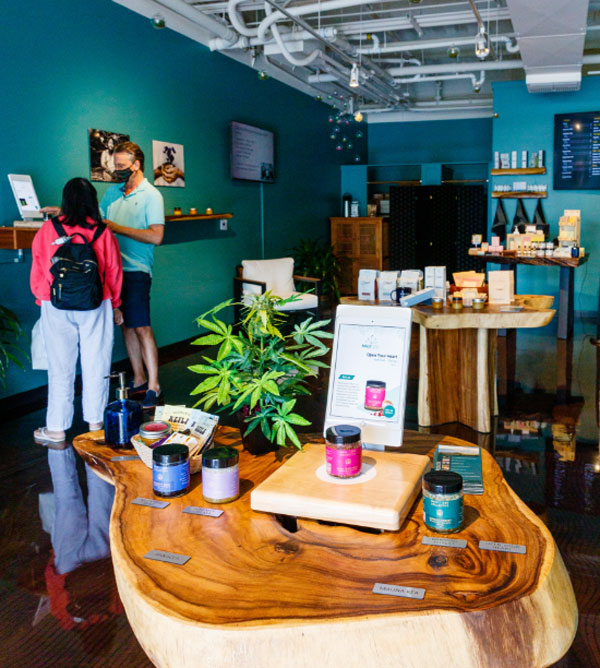 THE SOLUTION
A Strong Theme
The store features a beautifully handcrafted table that serves as the retail centerpiece of the store, and is often the first display customers interact with as they enter. And while the table itself is not very large, up to a dozen products can be displayed on the table simultaneously.
Drop and Learn Interactivity
Maximizing the table's space is made possible by a custom interactive display created by OnQ. The display is comprised of an upright tablet mounted atop a whitewashed woodgrain base. The base features an integrated sensor that responds when products are placed on the base, automatically displaying information on the tablet corresponding to the selected product.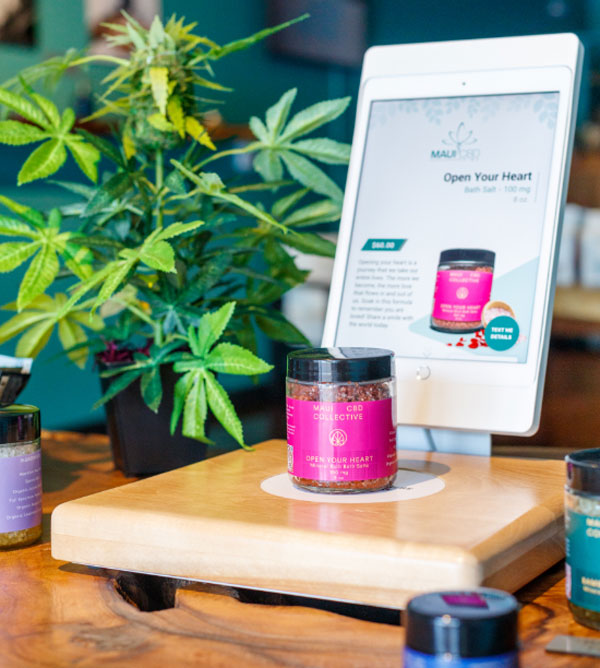 Expanded Assortment
This "drop & learn" capability makes it possible to display an expanded assortment of products well beyond what is physically displayed on the table. As the Maui CBD product line expands, the interactive display can showcase not only those items carried in-store, but also those available online.
Measuring Customer Engagement
The interactive display – powered by OnQ's Converge® digital engagement platform – delivers much more than a top-notch customer experience. It captures every point of interaction to paint a detailed picture of how customers interact with the products on display. Maui CBD now understands precisely how frequently customers engage with various products, and for how long. This insight offers valuable feedback to help refine product assortment to maximize customer engagement.
Mobile Hand-Off
Customers also have the ability to hand-off the browsing experience to their mobile phones by entering their phone number or scanning a QR code. This provides a seamless transfer of the in-store shopping experience to their phone, where they can continue browsing or complete the purchase to have the product shipped directly to their home. This also forges a lasting connection to the retailer, enabling customers to continue shopping at home or placing subsequent orders online at their convenience.
Dashboard Access
OnQ's Converge platform provides Maui CBD with access to a dashboard that displays aggregate and granular data about customer engagement. The dashboard is accessible on-demand, and also includes automated reporting that pushes customer engagement reports to key stakeholders via email.
"The only thing more impressive than the technology of OnQ's Converge system is the team they employ. Absolutely the most accommodating, knowledgeable, and service-oriented of any company we have dealt with in a very long time."
Jon M Graham
Owner, Maui CBD Prime
ACHIEVEMENTS
The Maui CBD flagship store in the Wailea resort area opened in late-2020. Customer traffic and engagement have been stronger than anticipated:
Averaging 500+ customer engagements per month
Customers explore an average of 1.5 products per interaction
Customer engagement has steadily increased 25% month-over-month since opening
Nearly 1 out of 5 customers provides its phone number
Plans are currently underway for three additional locations in Hawaii and mainland USA
DON'T MISS OUT ON THESE STORIES