Kevin Delahunty Joins OnQ as Chief Revenue Officer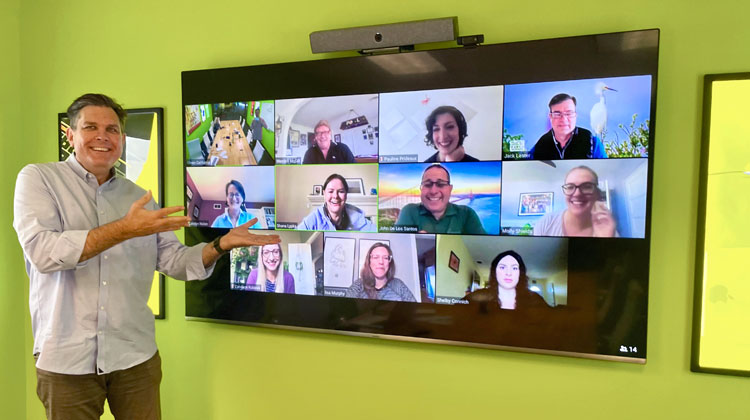 HAYWARD, CA – (November 16, 2020) –  OnQ, a leading manufacturer of custom retail displays, today announced that Kevin Delahunty has joined the company as Chief Revenue Officer. He joins OnQ as the company is expanding its core retail offering and moving aggressively into high-growth segments centered around OnQ's rapidly expanding technology practice. This marks the second major hire OnQ made in the past month, following the recent appointment of Pauline Prideaux to head-up Product Growth.
"OnQ sits on the cusp of some exciting growth opportunities that will only expand as the retail sector continues to recover from the pandemic," commented Delahunty. "OnQ has an amazing track record of helping the industry's biggest brands and retailers curate meaningful customer experiences, and I can't wait to help the company build on that success as we look to the future."
Kevin joins OnQ at an important time in the company's history. As retailers are eager to reinvent how they interact with customers, they seek out retail engagement that enriches the shopping experience while minimizing physical interaction. This shift has caused a sharp uptick in demand for solutions built around OnQ's Converge technology platform. A key part of Kevin's role at the company will involve strategic refinement and growth of OnQ's sales team to take full advantage of new growth opportunities.
"For the past several years, we've been investing heavily in technology to make our retail displays smarter and more interactive. Coincidentally that's precisely what retailers are demanding of their retail partners, so we're poised to deliver in a way that no other retail display vendor is able to," said Paul Chapuis, CEO of OnQ. "Kevin's wealth of expertise is precisely what OnQ needs as we strengthen our organization to help retailers thrive in today's modern retail environment."
OnQ was founded 17 years ago and has grown into a retail powerhouse, supplying retail displays to some of the biggest brands and retailers in North America. The company recently expanded its offering with OnQ Converge, a digital engagement platform that uses technology to provide rich customer experiences in store, while giving retailers and brands deep analytics and insight into customer shopping behavior. OnQ also developed a portfolio of antimicrobial solutions that help retailers create a cleaner, safer shopping experience for their customers. Most recently, the company introduced its Dfi On-Demand Secure Bracket System, a breakthrough in the retail industry that enables retailers to securely display new phones and tablets at launch with form-fitting, model-specific retail security brackets produced on-demand at OnQ's domestic manufacturing facility.
For more information about OnQ's full line of custom retail displays, visit www.onqsolutions.com.
About OnQ
OnQ designs, engineers and manufactures custom retail displays. The company is headquartered in Hayward, CA with production facilities in Akron, OH. Founded in 2004 and incorporated in 2007, OnQ's modular, flexible retail display platform enables retailers and brands to easily and cost-effectively refresh product assortment with minimal disruption. The company's displays are used to showcase a variety of product categories, including consumer electronics, home automation, pet care, health & beauty and household products. For more information, visit www.onqsolutions.com.